A few weeks ago, on the night of September 17, The House of Miss Rose was broken into and robbed. Hair pieces and extensions were taken, and a memorial of the late Gaby Davis was vandalized. Miss Rose, the owner of the shop, works primarily with cancer patients and provides a service that is totally unique to her by helping cancer patients find the perfect wig for them, including making them by hand.
Since the break in, Miss Rose has talked to newspapers and CTV in hopes of sharing what she does with the public and hopefully get the people who did this to understand who they were hurting. They were not only stealing from Miss Rose, but from the cancer patients who she helps every day.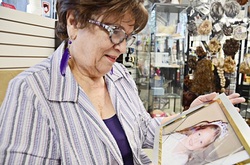 Thankfully, many people have stopped by the shop to give hugs and donations to help with the damage as well as put in security bars on all of the windows to prevent this from happening in the future. This is the fifth time that The House of Miss Rose has been broken into, and hopefully the last. The staff at the store and salon are aiming to get decorative bars put it so that it will not feel as dark inside with bars on the windows. It breaks Miss Rose's heart to have to lock herself in her shop while the people who did this are running about freely. By getting nicer, more decorative security bars, the shop will still feel warm and welcoming to clients. If you want to help out at all, please send an email to fittingstoyou@gmail.com or missrose@telus.net.